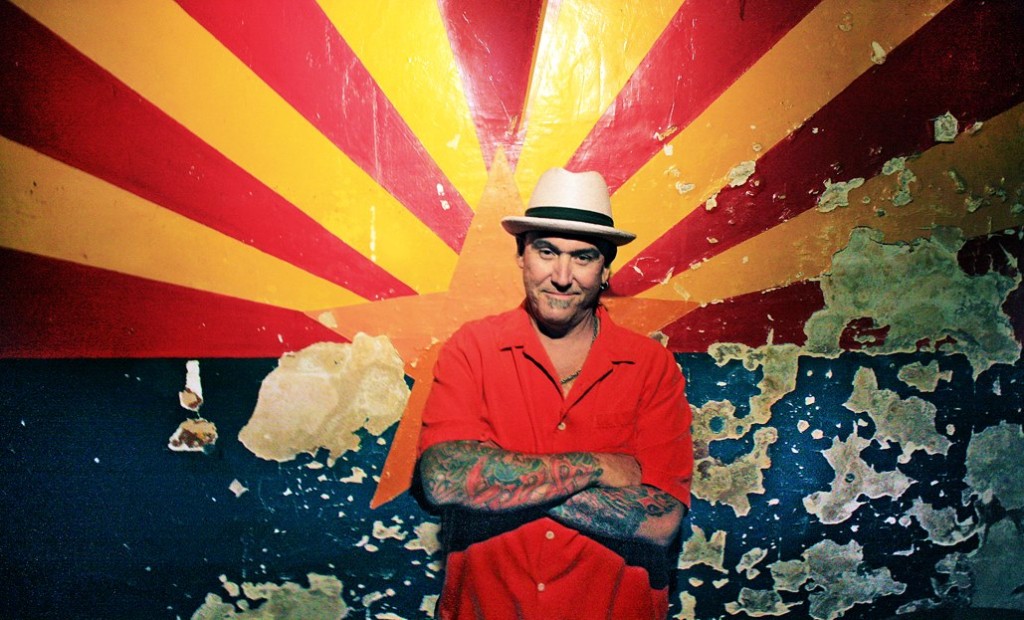 Bisbee Music Hall of Fame 2015 Inductee
Buzz Pearson
Music has always been a big part in Buzz Pearson's life. As a young boy, Bobby Pearson could always be heard singing in the shower. When he was 8 years old his parents bought him a snare drum which he played for 5 years. He also played bugle in the Golden Eagles Drum & Bugle Corp from the age of 9 until 12. Then, as today, his house was full of music. His dad was a great yodeler and his mom played accordion. His parents always sang and harmonized when taking their children on weekend trips. His older sister Pat, sang and played guitar at a young age and formed a folk trio that landed them in a talent show in Philadelphia hosted by Chief Halftown. The family watched her appearance live on TV.
In 1973, at the tender age of 18, Buzz formed his first band in the Allentown / Bethlehem, PA area. They were called the BLUE PLATE SPECIAL. In 1976, they went on to become SIDEWINDER, a very popular rock and roll band.
Buzz moved to Bisbee in 1988 and was heard singing the lead in Stan's RV Heaven, playing Stan Dupuy in the play. In 1989 he became part of a blues/jazz trio with Scott Baekland called BLUE FLAMINGOS. That band turned into THE BUZZARDS.  In 2001, BUZZ & THE SOUL SENDERS came into being and they went on to win the 2003 Arizona Blues Showdown at the Rhythm Room in Phoenix competing with 20 other bands. In 2004 the SOUL SENDERS went to Memphis and performed in the International Memphis Blues Challenge. Finally, in 2014, Buzz was inducted into the Arizona Blues Hall of Fame.
Buzz is, of course, a great singer. He can belt out a blues or a soul song along with the best them. He can also bring it way down and sing a quiet ballad that will make you shiver. But he's more than just a singer. He is also an accomplished harmonica player. Standing shoulder-to-shoulder and toe-to-toe with some of our best harp players in the country, Buzz never forgets to pay musical tribute to the harp pioneers such as Sonny Boy Williamson and Little Walter.
But Buzz is more than a singer and a harp player. He is also a great band leader. He is a stickler for tight arrangements and strives for perfection from himself and from his musicians. Because of this dedication to this ideal, he succeeds in turning a simple piece of music, or groove, into an adventure for the ears. Whether you are a dancer or just like to listen, you are drawn in by his complex arrangements, while he takes you on a journey, vocalizing, modulating, undulating, gyrating.
But Buzz is more than a singer, harp player and an arranger. He is also an amazing judge of talent. From the early days of the Buzzards, through the various configurations of the Soul Senders we have seen over the years, Buzz has always managed to draw from the talents of Bisbee's finest musicians and vocalists and has molded the group that today epitomizes what he calls funky-ass blues and sledgehammer soul.
Therefore, for his contribution to the Bisbee music scene, Buzz Pearson was inducted into the Bisbee Music Hall of Fame on October 4, 2015.
2015 POSTHUMOUS INDUCTEES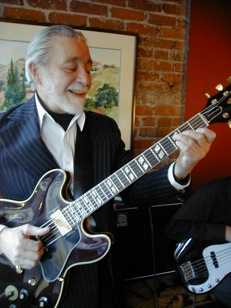 Bisbee Music Hall of Fame 2015 Posthumous Inductee
Tom Cook

Born on January 17, 1931, in Michigan, Thomas Dale Cook, started his jazz career in high school but eventually moved his family to San Francisco, where he pursued his music career.
There he worked his way into what was known as the "Society Circuit," where musicians were under pressure to know a standard repertoire and adapt to any key without notice. Or to find another job. This experience pushed him to excel and led to his performing on the Marvin Gaye Show in the mid- '60s. He performed with many bands in his lifetime, including a touring country music band his wife, Mary, and son, T.J. (Thomas Junior), the eldest of their four children.
Tom moved to Bisbee more than once but finally settled here in 1994. He played in venues all over town with many of Bisbee's finest musicians and spent the last 14 years of his life leading the Cool Jazz Trio with singer Nancy Weaver and bassist Paul Lewis. They played weekly at Cafe Roka for many of those years. His local collaborators were numerous: trumpeters Tony Roberts, Jerry Stafford, and Jay Dusard, guitarists and bassists Scott Baekeland and Dylan Charles, drummers Adam Ambrose, Steve Foss, among others.
Tom was always open and generous with his knowledge of the guitar. He made no claims to greatness but exhibited his virtuosity every time he picked up a guitar. Although he was primarily a jazz guitarist, he was nonetheless completely comfortable playing country and blues guitar, and could play a Latin ballad to bring tears to your eyes.
Tom continued playing professionally until shortly before his death on May 21, 2012.
Therefore, for his contribution to the Bisbee Music scene, Tom Cook was posthumously inducted into the Bisbee Music Hall of Fame on October 4, 2015.
Accepting a certificate on Tom's behalf was Tom's son, TJ Cook and daughter Lauren.
Bisbee Music Hall of Fame 2015 Posthumous Inductee
Kent Markle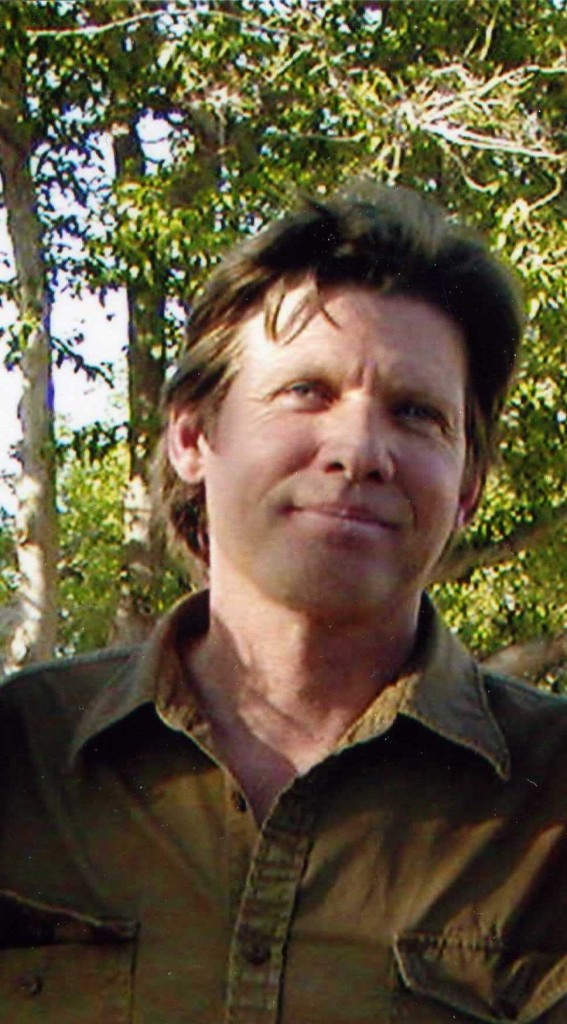 Kent Markle was born in Dayton, Ohio on September 18, 1955. At an early age, he moved to Tucson with his parents and graduated from Sahuaro High School.  He was an All-State basketball player and played at the University of Arizona.  There, he pursued his education and graduated with a  Bachelor's degree in Creative Writing and a Master's degree in Teaching English as a Second Language. He became a linguistics professor who spoke 7 languages and taught at Arkansas State University, Embry Riddle Aeronautical University, and in Saudi Arabia at ARAMCO and King Faud's University of Petroleum and Minerals. While working in Saudi Arabia, Kent met Canadian, Julie Bravo, and they married in India in 1988. Their three adult children (Homer, Lillian, and Gina) now live in Canada and NYC.
A nature lover and adventurer, Kent always had a dream about living in the Chiricahua Mountains. That dream came true when he bought 120 acres there. It was in the Chiricahuas on his birthday that Kent, met Vanesa Serrano. They fell in love and were together for 7 years.
Kent was an excellent musician most notably remembered for playing bass with Buzz & the Soul Senders for three years while living in Bisbee. He wrote poetry, short stories, and music throughout his life. He also played with numerous bands in Tucson, Arkansas, and Florida. He was also an accomplished harmonica player and was even once invited up to play by Buddy Guy at the Blues Fest in Silver City, New Mexico after which Buddy Guy exclaimed, "Wow, a white guy who plays like a black man."
Kent also performed at the Tucson Folk Festival and recorded with Singer/writer Russell Bartlett.
Kent passed away from a heart attack on December 16, 2007 in Saudi Arabia. He was 52. He is sadly missed by all who knew him.
Therefore, for his contribution to the music scene in Bisbee, Kent Markle was posthumously inducted into the Bisbee Music Hall of Fame on October 4, 2015.
Accepting a certificate on Kent's behalf was his sister Lee Ann Markle-Hamilton.