Bisbee Music Hall of Fame 2016 Inductee 
Charlie Gahn

Charlie was born on December 5, 1946 in Lafayette, Louisiana and spent his formative years there. He started playing drums at the age of 6 and was playing professionally by the age of 14. In 1982, he moved to Charleston, South Carolina where he continue his musical journey. From early on, Charlie's path was clear: he aspired to the music of Art Blakey, Dave Brubeck and other jazz greats. His heroes in drumming were Buddy Rich and Art Blakey.
In the mid-80s, Charlie opened up a jazz and fine dining club in Charleston called the Chef & Clef. The chef in this instance was his son Pat who today has his own musical career. Charlie ran the Chef & Clef for 12 years. During that time, many jazz greats played at Charlie's club including Branford Marsalis, Horace Silver, Dave Brubeck, Lionel Hampton and Maynard Ferguson to name just a few.
In 1999, Charlie and the family moved to Bisbee and he lost no time before he bought and took over the Old Tymer's on Tombstone Canyon. Soon, without missing a beat, Charlie quickly ensured that music was a regular feature on the menu. Various Bisbee artists played at Old Tymer's and Charlie often sat in with them on drums. However, Charlie loved it most when his favorite band came to town: the Larry Redhouse Trio.
Today, Old Tymer's no longer exists. It sold in 2011. Nowadays Charlie spends a good amount of his time working as a Bisbee realtor and with his family. Charlie has four children (Kelly, Garret, Shannon & Pat) as well as 8 grandchildren. But music is never far from his heart. He still plays with Larry Redhouse on regular gigs at the Stock Exchange Saloon. But perhaps most joy for Charlie now comes from his regular shows on Sunday afternoons at St Elmo's Bar with his son's The Pat Gahn Band which includes Charlie's wife of 50 years, Gayle, on vocals.
Charlie Gahn has all the attributes of a fine professional jazz drummer. He not only plays the correct tempo of a song, he instinctively knows the tempo of that song before it starts. He also is a master a keeping that tempo constant, throughout the piece, even after an extended solo. Charlies has an innate ability to communicate feeling by pushing the beat, pulling the beat, his use of accents and ghost notes. Charlie also has the ability to enhance tunes with fills, rolls and rhythms, creating wonderment and surprise in the audience. Finally, Charlie has the good taste and experience to know when or when not to use any of these techniques.
Here is what Larry Redhouse wrote about Charlie: "I have had the honor of playing music with Charlie for many years now. He's a naturally gifted drummer, able to play many different styles from mainstream jazz to jazz fusion. Charlie has a great musical ear, and I can count on him to add the appropriate rhythmic pulse and colors to enhance my music. Congratulations, my friend on being inducted into the Bisbee Music Hall of Fame. Peace and many blessings."
And Dave Resto, drummer, teacher, music journalist said the following: "Charlie Gahn devoted years to promoting music to the benefit for all. He is a world-class jazz drummer. He remains my mentor and friend. Bisbee has loved him dearly for so long and it is wise that they make their love known by honoring him with his induction into the Bisbee Music Hall of Fame."
So, for these reasons and for his contribution to the Bisbee music scene, that Charlie Gahn was inducted into the Bisbee Music Hall of Fame on Sunday October 2, 2016.
Bisbee Music Hall of Fame 2016 Posthumous Inductee
Jake Wise (1944-2016)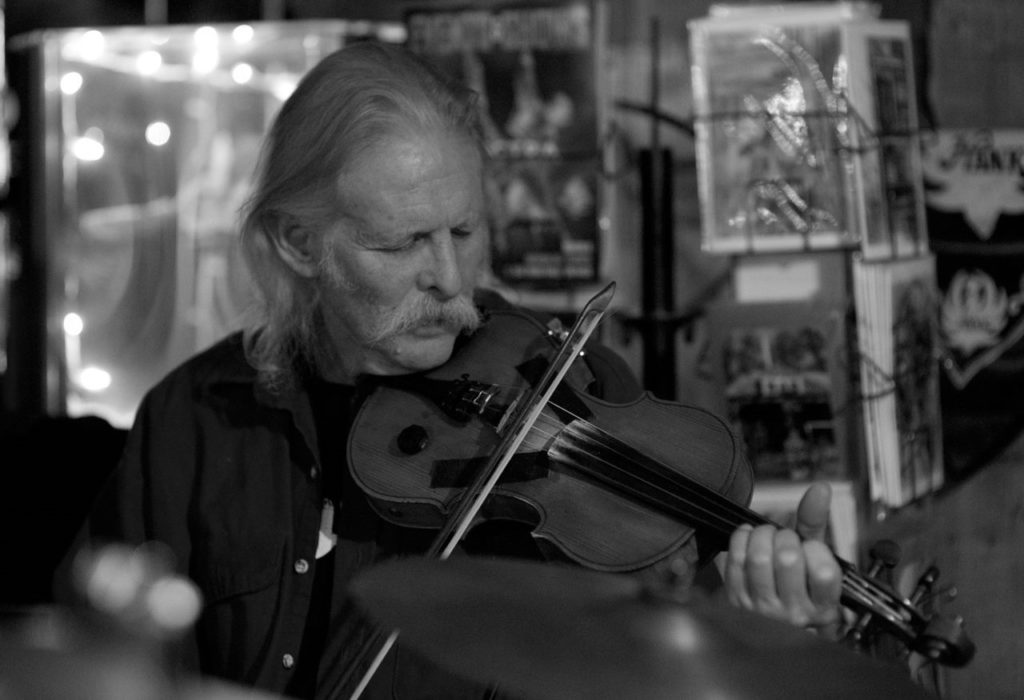 By Annierose Wise-Moran
Those of you who knew Jake and his music know that he lived and played from the heart. He was a Leo, a lion, an old soul, a Nichiren Buddhist and a disciple of the I-Ching. He was born and passed in the Year of the Monkey.
Jake Wise was born John Kennedy Wise, Jr. in Baltimore, Maryland, on August 19, 1944 during the liberation of Paris from the Germans. A favorite tale he enjoyed sharing was while living in Paris following his Army service guarding the Berlin Wall, he heard Charles De Gaulle speak at the Place de la Concorde on his (Jake's) birthday, the 20th anniversary of the Liberation).
Jake's initial musical experience was singing in the St. Paul's Episcopal Church Boys' Choir in Baltimore, which held the distinction of having the best liturgical music in the city for over a century. He was proud of this and enjoyed it very much until his voice took a detour south in his teens. He would chuckle upon relating the tale, saying he was convinced that it was the demise of his singing career. Fortunately for his fans, in later years this proved untrue.
Soon after, still in his teens, he departed Baltimore in search of new horizons and subsequently lived in New York City, Chicago and San Francisco, working as an architectural draftsman. While in San Francisco, a friend took him north to Mendocino where to quote Jake, 'He never looked back'. There he found a new home among free thinking, creative artists and musicians. The culture, era and beauty of the North Coast and folk who lived there inspired him to pursue his artistic photography seriously; focusing primarily on B&W, sepia, and hand colored portraits.
A few years later, Jake found his way to Silver City, Nevada on the Comstock Lode. It was there during a long harsh winter living on the side of a mountain in a tiny cabin aptly named "No Damn Reason", that he began teaching himself to play the fiddle. He spent much time in two local bars, practicing and playing repetitively the few tunes he knew. Later he would recall, with a big grin, the indulgence of friends at the Golden Gate and the Tahoe House.
While on the road again meandering through the Southwest, Jake discovered Patagonia and Bisbee AZ, new friends, inspiration and a rich environment to hone his fiddle skills and further pursue his photography. In fact his first paying gig was at the Copper Queen in Bisbee. During this time he switched from John to Jake, which suited him perfectly.
Continuing his exploration of the West, playing that fiddle wherever he went and sitting in with bands as his musical abilities grew, a chance encounter at a gas station in Montana steered him onto another pathway which he eagerly pursued. Spying the tipi poles atop his ol' Willys Jeep, a fellow traveler asked if Jake was headed to a nearby rendezvous. Unfamiliar with the concept, Jake went along for the ride and began a life-long love affair with the pre-1840 fur trade era rendezvous gatherings. His charisma, wit, love of life and 'anything goes' attitude, in tandem with the fiddling and photography were a match made in heaven for this endeavor. Rendezvous became an important part of his life for both the music and photography as well as making lifelong friendships. Deciding to stay in Montana, Jake settled in Red Lodge, a little jewel of a town snuggled up to the Beartooth Mountains, famous for its beauty, history and vibrant music scene.
At a nearby rendezvous in Paradise Valley, Jake met Annierose, soon to be his wife and musical partner. In 1983 they had a son, Kasey, in their tipi in the Beartooth Mountains south of Red Lodge. Sharing a life often months at a time on the road, they performed as "Jake and Annie" for over a decade in such places as the New Orleans French Quarter, Austin,TX, festivals and countless rendezvous all over the west and southwest, and of course, Paris France.
It was during a long Red Lodge winter that Jake borrowed Annie's guitar and was quick to master this new instrument. It was a natural segue into singing again.
In the spring of 1986, Jake and Annie travelled to visit Jake's old friends in Northern Nevada. Upon discovering the rampant musical opportunities available to them, they relocated to Silver City where they thrived for years. During this time, Jake earned the title of Nevada State Champion Fiddler, not once but twice. He was tickled when their son Kasey, at the age of 3, became the "Peewee" fiddle champ. "Jake and Annie" released three cassette albums together. "Fast Life in the Slow Lane", "Hippies Gone Bad" and "True to You".
In 1995, Annierose moved to the Mendocino Coast where Jake often joined her for gigs over the years. Jake continued travelling and perfecting his solo performance, charming and delighting audiences throughout the West and Europe. In 2003/04 he moved from the Comstock to Bisbee Arizona, a beautiful old mining town, rich in culture, art and music, where he had performed that first gig so long ago. Here he recorded his first CD album, 'Simply Solo' and was working on a second which he has left with a friend to complete.
In 2013 Jake purchased a turn of the century house in uptown Butte, Montana to be near his son, Kasey. There was the inevitable teasing that he was actually living in a space that did not either have wheels underneath or poles on the top.
Jake performed his solo concerts and occasionally with Annierose and Gary Moran at festivals and venues in Butte and Red Lodge. Wednesday nights at The Silver Dollar Saloon in Butte were a fun and favorite pastime. However, the countless hours playing music together on the Farmstead back porch and around the fire were the most cherished. Jake will forever burn bright in the hearts of those whose lives he touched and loved. We are all richer for the experience.
Jake passed away in the same manner that he lived; with grace, humor and dignity, surrounded by family, on May 11th, 2016 in his home in uptown Butte. He expressed to me that his Buddhist faith was a great comfort in his transition and requested that I read his Gongyo prayers to him each day (as his eyes were failing).
With gentle eloquence he said, "Annie, don't be sad, I have lived a good life, known great love and had wonderful friends. I have made a living doing what I love to do, living on my own terms. Okay, maybe a little sad," he said with a wink. In his last days, Jake was surrounded by love, family, friends, music, reminiscing, laughter, touching, encouragement and gratitude. To everyone's delight he even managed to play a few tunes with us, One More Time With Feeling!!! (Always his opening line at the start of Jake and Annie shows.
We will forever remember you, Jake!
Annierose Wise Moran
~~~~~~~~~~~~~~~~~
Memories of Jake Wise
By Sandy Pinkard
John Kennedy Wise or Jake as he was known to us, became a part of my life in early 1970 when I mustered out of the military and accidentally ended up in Mendocino, California. Also a recently discharged Veteran, Jake showed up after I got bucked off a wild horse and lay unconscious in the middle of a pasture. Jake, who I did not know, walked out and hauled me to a doctor for a shot of morphine and then trekked to the nearest hospital.
For a time Jake had an old garage in Caspar, California where I learned he could change the engine in a VW in a matter of minutes but that was not Jake. We were in the first wave of long hairs to migrate from cities, war on the mundane to the North Coast.
I'd begun to write hard country songs and married my second wife when I left Mendocino to be closer to Nashville. Music City chewed me up and spit me out in short order so, my new wife and I bought a small farm in Hot Springs, Arkansas where Jake showed up, hauling horses and an old fiddle that he'd begun to play.
Defining Jake was always a hard thing to do. He was masterful with his old black and white cameras and even though he could drive me crazy with his fiddle playing, there was never a time when I wasn't amazed with his photography.
I had family in Fort Worth and new found friends such as Delbert McClinton, Glenn Clark and T-Bone Burnette were making music when Jake followed me there. I believe it was a moment for Jake and his fiddle that focused his music as I was divorced and living above The White Elephant Saloon in an abandoned Mexican bordello when he moved in with me. Where the old cattle drives would end, the streets were lined with honky-tonks and every one of those joints seemed to have twin fiddle music emanating from within.
Our lives would jig and jag all over hell for many years together as the closest of friends and after becoming a staff writer for a Clint Eastwood company, I'd travel thru Bisbee to visit on my way back to Hollywood. Somehow he incorporated the western mountains into his music and was able to never lose touch with the humanity that surrounded him. I refuse to even try to define him but Jake Wise was an artist of the first order and will be missed by all who knew him.
For these reasons for the his contributions to the Bisbee music scene, Jake Wise was posthumously inducted into the Bisbee Music Hall of Fame on Sunday, October 2, 2016.