---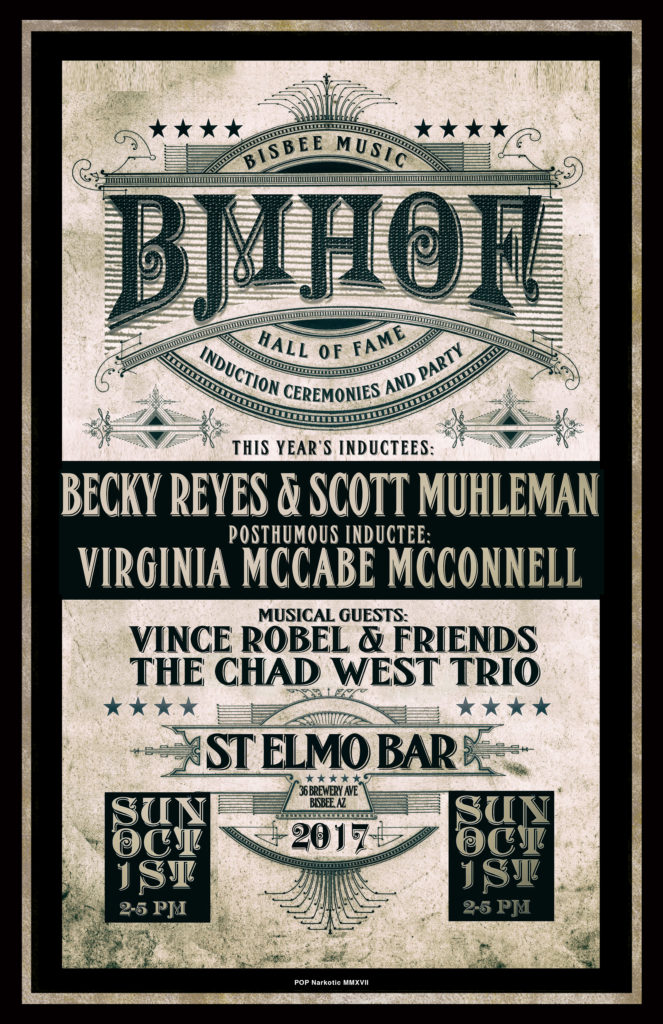 Bisbee Music Hall of Fame 2017 Inductees 
Becky Reyes & Scott Muhleman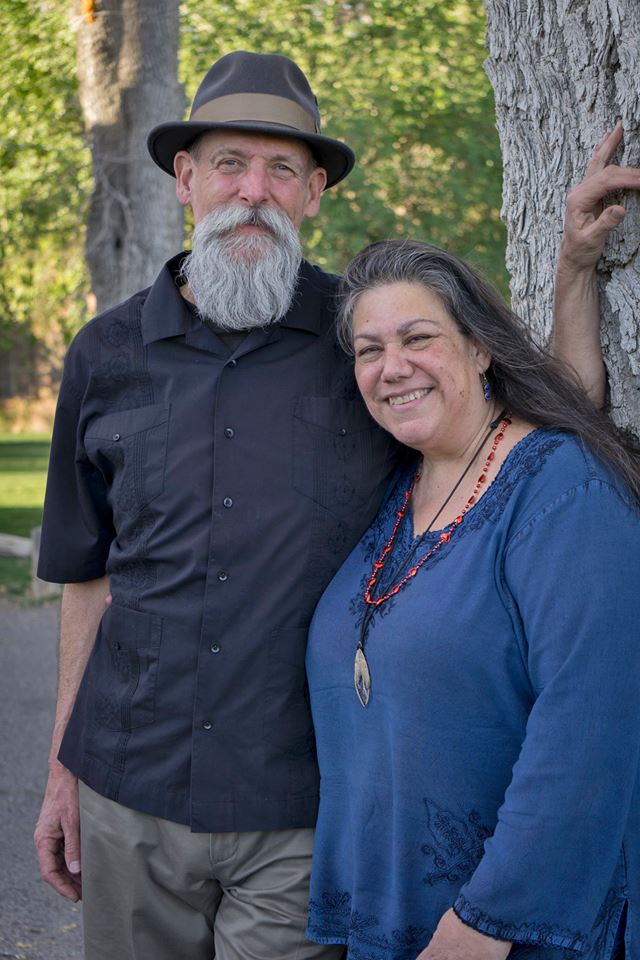 Becky Reyes and Scott Muhleman have been performing as a duo for quite a few years but they have also been formidable individual performers as well.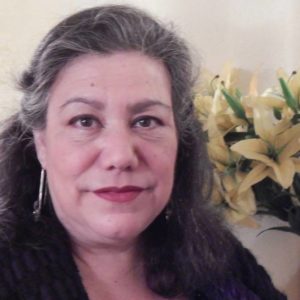 Becky was born in Agua Prieta, Sonora, Mexico but moved to L.A. at a very early age. As far back as she can remember, she always wanted to be a singer. As a child, thanks to her dad, she listened to 1920s jazz, boogie-woogie, mariachi music, tango and rock 'n roll. In her mid- 20s, she moved to the Finger Lakes in western New York State where she met Todd Stratton, a very talented musician. Becky worked with Todd for about 2 years before she gained the confidence to go out and actually do a gig. One summer, they landed a job playing on the dock of a local restaurant in Hammondsport, NY, overlooking the bluff of Keuka Lake. Becky thought it was amazing playing that close to the lake, with the sound of the birds and the water lapping on the dock keeping time with the music. That was the beginning of her love of playing fine restaurants.
Becky eventually moved to Douglas, Arizona to be near her grandmother. She moved to Bisbee in August, 1996 and in 1997 started singing and waiting tables at the Quarter Moon Coffee House right next to her apartment where the current Vavoom is located. At the Quarter Moon Coffee House, Becky found herself in a community of some very creative people and somehow got convinced to host an afternoon jam at her house which brought her into contact with some amazing musicians, including Scott Muhleman.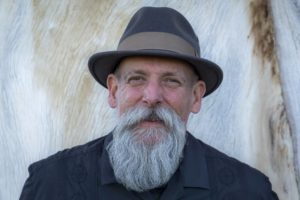 Scott was born and raised near Los Angeles. At about 10 years of age, Scott started playing around with bongos and guitars with his neighborhood friends. He played with other local kids and one of his band mates was Philo Cramer, who went on to become the lead guitarist for the punk band FEAR. By 1968, Scott and his mom had moved to Waikiki, Honolulu. At the time, almost everyone was playing guitar but Scott had a knack for the harmonica. After hearing Night Owl Blues by the Lovin' Spoonful, he was hooked. Scott thought that if he put the other instruments down and concentrated solely on the harp, he might actually get good at it. Scott spent quite a few years dividing his time between Hawaii and Alaska and the Pacific Northwest where he became known as Harmonica Scott.
In 1974, while Scott was living in San Francisco and attending nursing school he got his first full-time gig as a musician playing with D. C. Minner and Blues on the Move. D.C., his wife Selby and Blues on the Move were a traveling act from Oklahoma. Scott traveled with them throughout California and Arizona for about a year. When they arrived in Bisbee, 1985, Scott fell in love with the town and eventually returned to Bisbee to settle down. It was here he met Becky.
In 2005, Becky and Scott started playing at Hot Licks here in Bisbee. They even go to host the bi-weekly open-mic. In 2006, after having been playing locally for over 2 years and after auditioning to play at Stables Restaurant at beautiful Tubac Golf Resort and Spa, Becky was hired to entertain diners while they waited for their tables. Becky and Scott played there for 10 years. They also played at the Green Valley Farmers Market on Wednesday mornings. In and around Bisbee they have played Poco's in Peddlers Alley, Ana's seasonal Kitchen, Hopin' Grapes in Sierra Vista. They have also played at the Quarry and the Silver King. For the past three years, Becky and Scott having been playing every Tuesday night at the Bisbee Grand. And most recently, they started a Friday night gig at the Morning Star Café in Palominas.
Becky's musical influences include here Dad because of all the fine music he exposed her to while during her formative years. She is also grateful to Tod Stratton, Connie Deming (her biggest influence) who could read music and play piano and had a smile and a voice that lit up a room when she sang. There was also Lisa Bigwood, a fantastic song-writer, Joni Mitchell, Bonnie Raitt, Alberta Hunter, and many blues singers from the 1920s. Becky describers herself more as a story-teller than a musician.
Scott, for his part, Scott has also had the opportunity to sit in with such notable figures as Luther Jackson and the Loose Cannons, Bisbee's own Buzz Pearson and the Buzzards (as they were know back in the day). Scott also joined Sean Trachtman and Train Wreck to win the Southern Arizona Blues Heritage Foundation's 2007 Blues Challenge, and then went with the band to Memphis in 2008 to be part of the International Blues Challenge hosted by The Blues Foundation. He also played with the Tommy Patterson Band. Scott lists his influences as Elvis Presley, Sonny Boy Williams (the 1st), the folk movement in general, Little Walter, Charlie Musselwhite and Paul Butterfield.

Individually, both Becky and Scott have the power to light up a room. Becky can sing the spectrum of musical sounds from soft and sultry folk song to bluesy jazz standards. And over the years she has honed her skills as a guitar player where she has gone far beyond folk chord repertoire to more intricate jazz progressions. Becky is also a gifted and prolific song-writer with more than 50 tunes under her belt and she has produced 2 CDs.
Scott, always pursuing his knowledge and love of the 10-hole diatonic harmonica, has become Bisbee's harp guru. He has developed his own sound and his own voicings which lend beautiful colors to Becky's tapestry of vocals and guitar playing. Scott can "rock it" with any blues band that comes to town and he often does just that. Scott is also an excellent singer in his own right and has been exploring his voice a little more of late.
However, it is together that Becky and Scott shine the most. Becky's vocals and guitar playing are soft and haunting and completely mesmerizing. Scott's harp playing is equally enchanting and together they weave a web of liquid sound that envelops the listener and lures them into a remarkable musical dream.
For these reasons, Becky Reyes and Scott Muhleman are inducted into the Bisbee Music Hall of Fame.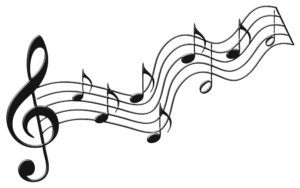 Bisbee Music Hall of Fame 2017 Posthumous Inductee
Virginia Jane McCabe-McConnell
Dec. 10, 1922 – Sept. 13, 2015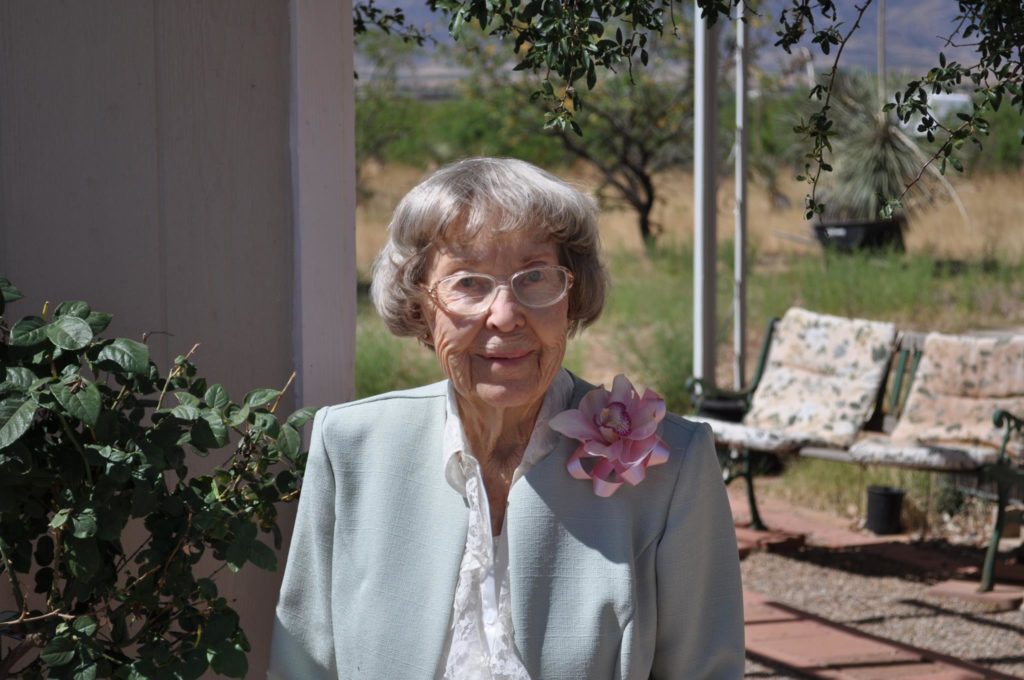 Virginia was born in Gebo, Wyoming in 1922. She attended schools in Kansas City, Missouri and Billings, Montana graduating from Billings High School in 1941. She attended the University of Montana in Missoula and received a Bachelor of Music Degree in 1944. She then taught band and voice in Sidney, Montana and then classroom music in Downey (California) High School.
In 1946, Virginia married Leonard McConnell and they moved to Bisbee where she spent the rest of her life. Here, she taught music through private lessons from 1951 to 1975. She taught voice, piano and organ. She served the Covenant Presbyterian Church as organist, Choir Director, Accompanist and soloist from 1948 until 2008. She also taught Sunday school, served as President of the Women's Association, directed the Children's choir and served as Deacon.
In 1967, Virginia went to work for the Bisbee Public Schools teaching music to elementary students and concluded her career in 1982 as a librarian.
Many people and organizations received the benefit of Virginia's musical knowledge and abilities going back to 1952 when she and Mary McLeod played a dual piano benefit for the AAUW Scholarship Fund to the Bisbee Community Chorus in which she participated and later conducted.
Without a word of exaggeration, we can safely say that over her lifetime, Virginia taught hundreds perhaps thousands of students the theory, practice and joy of music. She mentored countless musicians and vocalists. The influence she had on her students is immeasurable and timeless. And who knows how many of her students because music teachers themselves and continued in her musical footsteps. Her participation and support of the musical arts will be greatly missed by the entire Bisbee community.
For these reasons, Virginia McConnell is posthumously inducted into the Bisbee Music Hall of Fame.