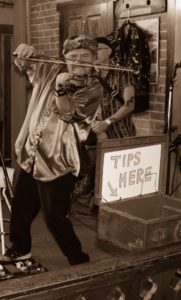 John Cordes BMHOF Inductee 2018
John Cordes was trained in classical music from a very young age. But then one day, he heard Papa John Creach playing with Hot Tuna and from that moment on, he knew he wanted to play electric violin. He joined his first band called Sub-Zero, in Chico, California in 1971. With Sub Zero, he traveled to Long Island, NY, where he played for some 20 years. From there he headed to the Big Apple, New York City where he played for 12 years. During his New York years, he played at a club called CBGB which stood for Country, Bluegrass, and Blues. CBGB was the New York club where the Ramones and the punk movement got their start. It was a legendary bar in the Bowery that became "The Place" to play your original music. It closed its doors in 2006.
John is also fond of saying that while in New York, he often played Carnegie Hall. But then security would come and tell him to stop busking in the doorways because he was blocking the way for paying customers.
In 2010, John's cousin, Cathey Cordes, recommended that he come check out Bisbee. When he visited, he came right here to Elmo's which at the time had an open mic hosted by Ted Reyes. When he saw the quality of music in our fine town, he decided to make the move.
During his first week in Bisbee, he happened to be passing by the Copper Queen on a Saturday afternoon and hear the sweet voice of an accomplished vocalist belting out "Bobby McGee". Her style blew him away. That was the late Terry Wolf. He sat in with her that day and they played together for the next 7 years. Sadly, Terry passed away last year, on Oct. 2, 2017.
Since his arrival in Bisbee, John has played with almost every musician in town including Gidzilla, Pat Panther, Tin Can Tourists, the Last Call, Pat Gahn and many others at gigs and at open mics. Back in 2013, John was also a founding member of the band Little Sugar who, at his request, played at his induction ceremony and party.
John has often sat in with many visiting musical acts. His virtuosity on the violin is such that he needs no rehearsal. He can play almost anything you throw at him. And because of his classical training, he can read charts if you happen have them.
But there's another important dimension toJohn's success. Musicians are included in the larger category of artists, and artists can sometimes be temperamental andoccasionally hard to deal with. Part of John's success, in addition to his excellence as a musician, is his easy-goingnature, his ability to get along with everyone not to mention his good spirits and sense of humor. He is never late for a gig and you can count on him to give 100% in his performances. And he is versatile. He can play jazz, rock, folk, country and blues.Anything.
In conclusion, John Cordes is a brilliantmusician, able to move seamlessly between different styles of music and he is a joy to play with. Oh, and above all, the audiences ALWAYS love him.
For these reasons, on October 7, 2018, John Cordes was inducted into the Bisbee Music Hall of Fame.